Your Auto Transport Load Board Search Ends Here – Now updated for 2019
The landscape for load boards has changed a lot in the last 3 years. Now we have updated this great piece with relevant info for 2019.
Each day, thousands of auto transport company owners, drivers, dispatchers search the internet for new loads to book. The auto transport industry has endless load boards – but how does one know which load boards are actually worth the effort?
There is a balance. You can't physically watch ten load boards at the same time.

Choose only the best.

What is the future of load boards? Super Dispatch knows.

Super Dispatch's Super Loadboard: the independent (and free) load board
Super Dispatch started as a simple eBOL and cargo inspection app 5 years ago. In 2017 we grew to an entire transportation management system for car haulers.
Now in 2019 we have a TMS for brokers and shippers AND a free load board.
With a subscription to the TMS and for our Super Carriers, the load board is free to use for brokers, shippers and carriers. And unlike other load boards, ours is a one-stop-shop load board + business management tool for brokers AND car haulers. We are the first, true end-to-end platform for car shipping that includes Automatic BOLs Invoices, as well free load notifications via text and email. No emailing, uploading or importing information from one system to another: it's all connected, integrated, and seamless.
Our load board is also uniquely accessible via our free eBOL and photo inspection mobile app (Downloadable on the Apple App Store or Google Play Store)

Central Dispatch: Auto Transport Load Board
Like it or not, Central Dispatch is not only the most expensive auto transport load board, but it remains to be the biggest and most comprehensive load board for car haulers in the United States. There are trends in the industry, that hint this is slowly changing. I truly wish it wasn't so expensive but it's clearly the largest auto transport marketplace to be found anywhere; and therefore, it's one of the better places to meet all the other auto brokers and car carriers, to book new loads for transport, and to learn how to fine tune your search for better-paying loads in the future.
Central Dispatch is much like an enormous convention center, containing everyone from mom-and-pop shops to nationwide trucking behemoths, allowing you to find hundreds of loads at any given time. Remember: this is where you can learn to navigate and negotiate and make mistakes without critically injuring your car hauling business. Since brokers and carriers on Central Dispatch come and go year after year, this is the auto transport load board where you can meet nearly every other car shipper and auto transport broker operating today. Once you have graduated from a steep learning curve, only then are you really ready for the next level of load board/broker-carrier relationship.
Though it's still true that Central is one of the more popular places to find new brokers or carriers, we have found (and reported on) brokers and carriers that are increasingly dissatisfied with the load board due price, the lack of innovation and accountability. Though there is a lack of innovation in the technology, there are some incredible benefits to Central Dispatch's original tech: the search function is tried and true (though you have to pay to get notifications for saved searches)
Car hauling businesses feel the pain of having empty spaces on their trailers – because they cannot afford to haul cheap freight!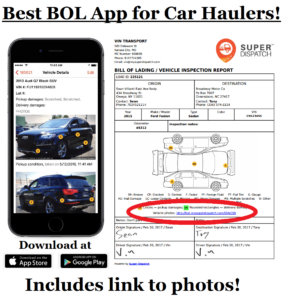 Stop Missing Loads: Ready Auto Transport (RAT) and CarsArrive Network
Ready Auto Transport and CarsArrive Network are also two of the larger? auto transport load boards in existence today. Their car shipping load boards not only allow car haulers to book cars online (no phone calls), but their loads can be reliable when it comes to being ready. Additionally, the carrier pay is at a reasonable market value. These two companies are also very respected within the industry and that's why all carriers are required to complete a lengthy packet in order to qualify and meet their business requirements. Once approved, simply log in with your new username and password. Note: A transporter should check these load boards frequently to avoid missing the best paying loads.
In 2019, both of these have improved immensely. They each have taken a page from Super Dispatch and improved their mobile interface. RAT has more loads than years past, but loads often have bad information (no car descriptions, low prices and INOPs are rarely labeled.) CarsArrive also has more loads than years past and is one of the better paying brokers around, but to interact with the load board, a carrier needs more experience and higher cargo insurance minimums.
Always say, "Yes!" Even though you may get inundated with emails, there will be times you'll be glad you did.
Auto Broker Load Boards You Should Know About
After the top three or four, there are unfortunately only about a handful of other load boards worth actually checking. The volume of inventory of most load boards is either too small to watch all day. The effort required to find an occasional good load is often greater than the reward of discovery. However, some of these specialize in regions and/or clients – while others specialize in a type of pickup location, such as rail head, port, and/or manufacturing plant. Overall, based on your carrier size and physical location, it may well be worth searching regularly if you have a specific route. Here is that list, along with a few takeaways:
MetroLoads.com – rail yards, ports, dealers, and more
Carrier.ReindeerAuto.com – corporate relocation at a premium
uShip.com – residential moves requiring weeks of planning ahead
[2019 additions] Carhip.io – semi-expensive TMS and according to trucker forums, much fewer loads than Central Dispatch.
[2019 additions] Ship.cars – Brokerage Montway's required app for car delivery. It has a clean interface like Super Dispatch. Reported to have fewer loads than Central Dispatch – Still free (as far as we know at the time of this posting.)
Note: It is highly advised that a transporter checks these load boards frequently to avoid missing the best paying loads.
Car Shipping Email Lists Help Keep You Loaded
As you develop personal relationships and network your business, you will meet various brokers and dealer contacts that offer to add you to their email distribution lists. Always say, "Yes!" Even though you may get inundated with their emails, there will be times you'll be glad you did. Some of those companies include:
Montway.com – a large database of VIP and residential moves
RPMvehiclesystems.com – several reps nationwide with long lists ready to move
Relotrans.com – bid daily on premium corporate relocation moves
PoseyTrans.com – great paying loads that oftentimes require specific timing
RiteWayAutoTransport.com – offering you loads on your route
LogisticDynamics.com – working hard to move cluster loads now

How Many Load Boards Is Too Many?
A full-time dispatcher can only watch so many load boards at once! There is a balance you can achieve, while not missing loads. You can't physically watch ten load boards at the same time. My advice is this: To grow your car hauling business, secure a regular customer base. Only use load boards to fill in the rest of your empty spaces. Good luck out there.
Car Haulers: want to try the eBOL, TMS and free load board? Sign up for a free trial here
Brokers and Shippers: want to try the TMS + free load board and connect directly to our huge network of carriers? Start your free trial here.
Published on August 23, 2019