Super Dispatch has been writing about the ELD mandate for over a year now to help our customers prepare. But now as the ELD mandate has officially been enacted, we took the time to dig deep into the regulations. Now we have all the information you need to know about the Electronic Logging Device Mandate and Hours of Service from the FMCSA!
Truckers are still processing all the nuances of the ELD Mandate that officially came into effect December of 2017. Super Dispatch has noticed a lot of questions coming through the Support Chat Window about this mandate, and we want to address the confusion. Over the next few weeks, we will address some of those questions in a series of videos. Through this post and the accompanying videos, we will cover:
the ELD definition
Hours of Service rules
ELD mandate exemption
Rules for exempt drivers
Super Dispatch's tips for buying Elog devices
How to use an Elog Device properly while driving
What ELD data transfer means and how to do it
Super Dispatch's tips for using Elog devices
The common controversies surrounding ELD and HoS
History and future of the Elog and HoS debate
There are a lot of nuances to this mandate, and we will be updating this post with more videos, helpful checklists and tips.

Definition and Rules
Video 1 of 10

Definition and Hours of Service rules

ELECTRONIC LOGGING DEVICE DEFINITION –
OFFICIALLY: "Electronic hardware that is attached to a commercial motor vehicle engine to record driving hours. The driving hours of commercial drivers (truck and bus drivers) are regulated by a set of rules known as the hours of service (HOS)."

TRANSLATION: An electronic device that plugs into a commercial semi-truck engine to automatically record when the truck is running or not. The device forces a commercial semi-truck driver to automatically record the hours he is driving his truck (in accordance with the FMCSA Hours of Service to which all commercial drivers must adhere.) Because HoS affects the ELD mandate, we have defined the Hours of Service rules below:

HOURS OF SERVICE RULES

(according the Federal Motor Carrier Safety Administration)
11 in 14 hours rule:
According to the FMCSA website, a commercial driver can only be ON DUTY for a maximum of 14 hours after his required 10 consecutive hours OFF DUTY. (Drivers regulated by the Hours of Service regulations must take 10 consecutive hours OFF DUTY after every work day.) Within that 14 hours, he may drive his vehicle for a maximum of 11 hours. The 14 hour "ON DUTY" clock does not stop ticking. The 11 hour DRIVING clock can start and stop whenever necessary.
70 hours in 8 days rule:

This rule requires that drivers can not be ON DUTY more than 70 hours in 8 consecutive days. This rule combined with the 11 /14 hour rule means that a driver could potentially be forced to wait days at a time, so as not to work too many consecutive hours. This is why, after much debate, the FMCSA decided on the…

34 hour restart rule: This is a rule that allows a driver to "restart" his 8 day clock. For instance, if a driver has been ON DUTY a full 14 hours each day, Monday – Friday, he would have to wait 72 hours until he could legally drive again. The 34 hour restart rule cuts that wait time in half.
ELD EXEMPTIONS
Video 2/10
In this section, we are going to get into everyone's favorite question on the ELD mandate – AM I EXEMPT? Few exemptions apply to commercial car haulers, but we will outline here the exact parameters of these exemptions. Exempt drivers fall into two categories: HoS exempt or ELD exempt. Short Haul and Agricultural drivers are Hours of Service exempt, while older vehicles and towaway services are only ELD exempt.

LIST OF EXEMPTIONS:
Short haul (also known as the Time Card Exemption or the 100 air mile exemption): When a commercial driver operates within a 100 or 150 air mile radius. (CDL required drivers have a maximum of 100 air miles while NON-CDL required drivers have a 150 air mile maximum.) In addition to this requirement, the driver must meet a few more:
– Start and return to same location during operating time

Drive no more than 11 hours
Have ten consecutive hours off between shifts
Operate no more than 12 hour days
If you meet these requirements, you do not need to record your Hours of Service using a federally mandated Electronic Logging Device. IN FACT, you do not need to record HoS AT ALL. You do need to use time records to prove (during random compliance checks) that you consistently fall within this exemption category.
Agricultural exemption: Like Short Haul, Agricultural drivers that operate in a 150 air mile radius are not required to log Hours of Service at all, and only need to record a time record. Because agricultural exemptions rarely affect car haulers, we will not cover this topic in depth. FMCSA has a short PDF that covers the specifics better than we ever could.
Recreational: This is for drivers that operate large trailers recreationally rather than commercially. This definitely does not fall under the work our customers do, so we will also not go in depth here.
Pre-2000 engines: Trucks with engines older than the millenium (2000) are not required to record Hours of Service using an electronic logging device. Sometimes, engines will not match the model year on the VIN (this disparity happens when an engine is rebuilt using a glider kit.) Drivers must remember that this requirement applies to the engine, not the VIN. Engines need to have electronic control modules to connect to ELDs.
Driveaway/Towaway service: If you are operating a towaway service (driving multiple personal vehicles) it's impractical to install an ELD in your constantly changing workspace.

FAQ
What are air miles?
Think of air miles in flight terms: Air miles are the straight line from Point A to Point B, as opposed to the literal distance it would take someone to travel from Point A to Point B.
E.g. Houston to Austin, TX is about 165 miles in road miles, whereas it is only 145 in air miles.
How do I calculate air miles?
Here is a handy air mile calculator that you can use to estimate.
What if I occasionally exceed the 12 hour rule or other parameters of the exemption?
That's okay – FMCSA knows that short haul drivers do not drive short distances all the time. If you do not exceed these parameters more than 8 out of every 30 days then you are still exempt. 30 days means every 30 day period, not every month (i.e. May 15 – June 15 is a 30 day period.)
How do I record my drive time on days I exceed the exemption?
As long as you don't exceed the exemption for 8 out of 30 days, you must record your
What is a time record and how is it different from RODS?
A time record is a simpler version of a RODS. It is not an official legal document and can be recorded in any format. These are the elements a time record (or time card) should have:
(A) The time the driver reports for duty each day;
(B) The total number of hours the driver is on duty each day;
(C) The time the driver is released from duty each day; and
(D) The total time for the preceding 7 days in accordance with 395.8(j)(2) for drivers used for the first time or intermittently.
To be safe, we suggest you follow this format (or print off this form and use it.)
You are not required to produce any sort of proof that you record this information at the roadside, unlike with RODS.
Do you want a little more information? Head over to the ELD and ELD Exempt FAQ post, where we expanded on the subject!
Bonus Video

Bonus video 2.5

RULES FOR HoS and ELD exempt drivers
ELD exempt drivers fall into two categories: Hours of Service Exempt and simply ELD exempt. What does that mean though? We helped you out with this short explainer video and text:

Hours of Service exempt drivers: requirements
Hours of Service exempt drivers do not need to adhere to the paper log requirement that most do. These drivers do have to keep "time records" to prove that they are indeed Hours of Service exempt as we explained earlier in this post.
"Time records" are not specific legal documents like RODS, and can vary in format. Both CDL required and NON CDL required drivers are required to record in this manner. These are the only specifications for time records:
As per 395.1, the only thing that has to be done is that the motor carrier must maintain and retain for a period of 6 months accurate and true time records showing:

(A) The time the driver reports for duty each day;

(B) The total number of hours the driver is on duty each day;

(C) The time the driver is released from duty each day; and

(D) The total time for the preceding 7 days in accordance with 395.8(j)(2) for drivers used for the first time or intermittently.

The driver must return to the place he started within 12 hours. ?This is all determined on investigation or a compliance review.
Drivers must record these time records daily, but are not required to produce them at roadside.

ELD only exempt drivers: requirements
This is the simplest one: if you are an ELD exempt driver, you just need to record to your logs as usual, within the Hours of Service mandate that we covered in the first section of this post. Unlike HoS exempt drivers, your hours of service must be on an official Hours of Service log.

ELD and HoS EXEMPT RULES: FAQ
Super Dispatch asked the Commercial Vehicle Safety Alliance (the group responsible for International Roadcheck) and a Safety Investigator at the Missouri Division of the US Department of Transportation about the specifics of a few of these rules:

[HoS] Do I need to produce these time records at roadside inspection?
"Nothing, other than the drivers statement that he is operating within the 100 miles has to be produced at the side of the road. The only time a driver must produce something at roadside is when he is required to keep a RODS in some form," said Kerri Wirachowsky, Director of Roadside Inspection Program at the Commercial Vehicle Safety Alliance. The safety investigator at the DoT agreed on this point.

[HoS] Do I have to keep these records on paper?
No, as long as the sections in 395.1 are recorded in some way, the format does not matter.

[HoS or ELD] Can I record in electronic programs, such as the Super Dispatch Hours of Service recording feature?
The simple answer is yes, as long as you are recording accurately, electronic recording software (that is not an ELD) is compliant. But, if you are pulled over at roadside and you must be able to produce physical records that you can sign and hand over to a DoT officer.

[HoS or ELD] Can I email my electronically recorded logs at roadside inspection?
If you do not have an ABORD (the electronic recording system that was grandfathered in to the ELD mandate for another year) you can not email or show an electronic PDF of your logs, they must be able to be printed.
This means that you either need a printer on board that can connect to your phone, or you need to record on paper for the time being.
We at Super Dispatch prefer the permanence of electronic records. They don't feel as permanent as paper, but they are easier to keep and carry with you everywhere. Thus, our official suggestion is to log your hours electronically and keep 7 days worth of paper logs on hand in case of inspection.

ELD REQUIREMENTS
Have you seen the ELD requirement checklist on the FMCSA website? Though it's a helpful tool, the language is pretty daunting: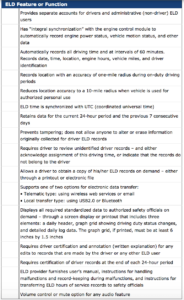 We want to break this down for you. So here are 7 considerations you need to make when purchasing an ELD:
The Device itself
Account management
The Duty Status management
Location recording features
Data transferring features
Display features
Legal certification features

THE DEVICE:
Currently there are two choices on the market for ELog devices. The first is a standalone device that has an attachment that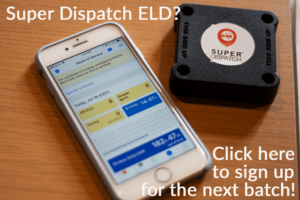 plugs into your engine as well as a visible display with RODS controls.
The second choice is a device that plugs into your engine and connects (usually via Bluetooth or Wi-Fi or a physical plug) to a secondary device, such as your phone.

ACCOUNT MANAGEMENT
This sounds innocuous, but it's very important. For company drivers, ELD's need to have multiple accounts – one Driver and one Administrator. Drivers can make (legal) edits to their RODS on the ELD, while an Administrator can only suggest edits. Why? To save drivers from harassment.

DUTY STATUS MANAGEMENT
Like RODS, Electronic Logging Devices are required to record date, time, location, engine hours, vehicle miles and the identity of the Driver. To stay consistent across all devices, they are all also required to use Coordinated Universal Time (UTC.) UTC and RODS must be recorded at a minimum of 60 minute intervals.
From the FMCSA, these are the only recognized status categories an electronic logging device: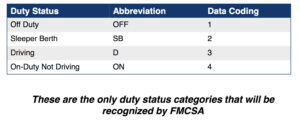 LOCATION RECORDS
Like RODS, you are required to record the nearest mile marker of your duty status, so your device has to be accurate within a 1 mile radius at the point of all status changes. When in personal use, these requirements loosen to a 10 mile radius.
But because OTR work can mean spotty internet access, Elog manufacturers have to have a way to GPS track their devices when the internet is not available. Mostly this means that Drivers are allowed to edit their location records to make them more accurate after going OFF-DUTY.

DATA TRANSFER
Just like a paper Record of Duty Status, you need to be able to produce your RODS for a DoT officer. But you are not required to print it out. An ELD can have two different transfer methods: local transfer or telematics Local data transfer can be done using Bluetooth or a USB. Telematics can be done via email or ?web services. The ELD you buy will have one or the other.
The FMCSA explained it better than we ever could through this graphic: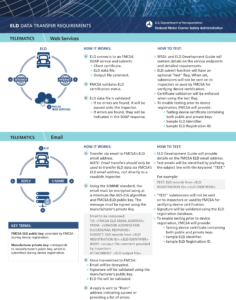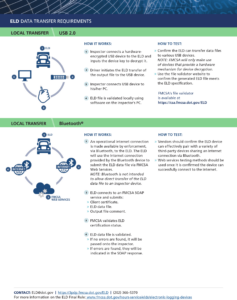 DISPLAY FEATURES
The legal requirements for the display of an ELD is meant to mimic a traditional RODS paper. A Driver must be able to view the RODS grid and/or recreate it in printable form on demand.
To keep from interrupting the driver, it also is required to have internal volume control (including mute.)

LEGAL CERTIFICATION FEATURES
This simply means you must be able to verify your logs in three ways:
Place for driver signature on RODS
Log verification
Edit verification
This was a brief break down of what the legalese on the FMCSA website actually means. Next week, we are going to get into our tips for buying ELDs and a checklist of questions you need to ask when buying.

ELD Buying Tips
Now it's come to the buying portion of the ELD mandate. What do you do now that you know everything about the ELD? I sat down with my colleague and ELD Product Manager Mike to talk more about it.
I also have a more comprehensive post called Top 5 Questions To Ask a Salesperson When Buying an ELD. When you read it, also make sure to download our PDF Question Guide!

Do you have more questions? Let us know!
COMING UP:
HOW TO USE while driving
DATA TRANSFER
OUR TIPS for using
Controversies
Laws and History
Want to see our future videos?
Do you want a question answered about the ELD? Let us know so we can address it next week.
Published on June 1, 2018