Gone are the days when online shopping was limited to household and personal goods. Today, people are buying everything online—and that includes cars. What was once an industry limited strictly to in-person transactions, car buying has increasingly gone virtual, particularly in response to the pandemic and the resulting race to digitize even more of our lives.
And that, of course, means that more and more cars are being transported and tracked all across the country. From coast to coast, the vehicle transport marketplace is burgeoning for shippers and brokers—and for shoppers.
Here's why online car sales are continuing to be on the rise, even as people are going back to in-person processes in other areas of life.
1. Health and Convenience: Making It Easier on Customers
While some areas of the country are finally seeing fewer and fewer cases of COVID-19, the initial inspiration for many car shoppers to make the shift online was to avoid getting sick. And even as—fingers crossed—we all start putting our face masks away, many people will continue to steer clear of public places during flu season or while dealing with personal health issues.
Being able to choose a virtual car buying experience over an in-person one will help anyone facing a health challenge get the vehicle they need without having to overcome the hurdles and potential health risks of shopping in person.
Buying a car online also eliminates a lot of the extra hassle and back-and-forth by streamlining the process and putting it all right in the buyer's hands. There's no need to time a shopping trip for when the dealership is open, and it's easy to avoid crowds, wait times, and pushy salespeople.
Like grocery delivery, streaming movies from home, or joining a work meeting from your couch—once you've tried it out once, it can be hard to want to go back.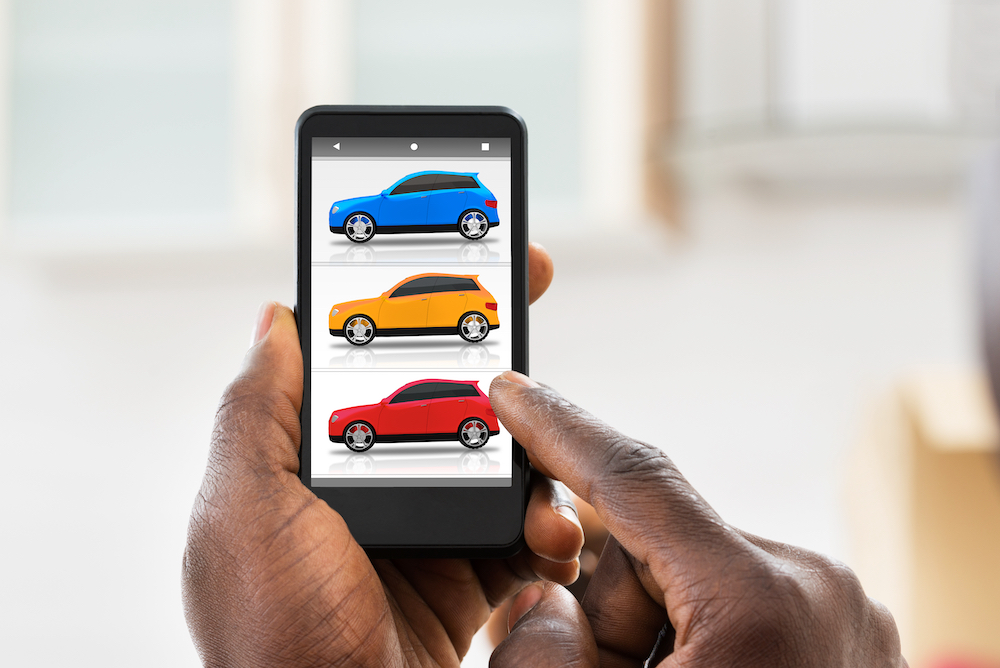 2. Choice and Supply: Improving the Selection of Inventory
When someone buys a car in person, they're limited—at least at first—to whatever selection the dealer has on their lot. With online car shopping, they get to cast a much wider net right from the beginning of the search. In fact, shopping for a car online allows people to browse a nearly infinite selection of vehicles.
Shoppers can filter their search according to what's most important to them, from style and color to functionality and features. They can choose new or used, high-end vs. budget, electric or gasoline power, and any number of other criteria they might want to factor in.
That's of even greater importance these days. Used cars are in high demand, and of course that supply is finite. Plus, the auto industry is facing a major shortage in semiconductor chips—another symptom of the pandemic and the global supply chain crunch—which is shutting down assembly lines and putting new car production in jeopardy.
Dealerships will likely rely even more heavily on the ability to transport vehicles from location to location in order to meet their customers' needs as quickly as they can, no matter where they are.
3. Opportunity and Availability: Answering the Online Competition
Finally, a big reason that online car sales are on the rise is simply because they can be. As with many technological advancements, the simple fact that you can do something virtually and on your own time is bound to make it a more attractive option for the tech-savvy, the early adopters, and the ultra-busy.
E-commerce has been a game-changer for industry after industry, and car buying is no different. It may still feel like a fad, but rest assured that online car buying is here to stay. As more and more people opt for a virtual car-buying experience, it's likely to attract even more shoppers to choose the same.
And with companies like Carvana, CarMax, and AutoTrader experiencing rapid growth, now is the time for on-the-ground dealers to ensure they can compete with those online sales and continue providing an exceptional experience for their customers. For dealerships of all sizes, they can't afford to wait.
—
The continuing rise of online car sales means added pressure on the vehicle transport marketplace: more vehicles sold, and more vehicles shipped. If you're seeing an uptick in transports for new and used vehicles heading to new owners, you could benefit from digitizing your transportation management system.
At Super Dispatch, we're committed to helping auto shippers and carriers like you move your inventory faster, smarter, and easier nationwide. In fact, our transportation management system, auto transport load board, and other digital solutions are designed specifically with the auto transport industry in mind!
If you're ready to see how Super Dispatch can help you provide outstanding service for your customers with safe and efficient delivery, we're ready to help. Sign up for your free trial to get started today.
Published on November 27, 2021