Car Hauler Industry Tips, Shipper
[Infographic] How Auto Transport Shippers Can Gain Agility and Visibility
by Kacie LaCombe
The process of managing loads and transporting vehicles can often feel disconnected. Between the many handoffs and the ongoing game of phone tag, Shippers can be left feeling like they are flying blind. The auto transport industry has long been dependent, even comfortable, with this fragmented process. It's just the way things have always been done. However, it's not an effective way to manage or grow your business, and if you're trying to meet big volume goals, it's certainly not sustainable. 
It may seem like technology is often presented to auto transport shippers as a cure-all for the inefficiencies they face, but that's because it nearly is. An auto transport platform doesn't streamline what used to be fragmented in your vehicle shipping management, it also enables auto transport shippers to do more, better. In this industry, the key to succeeding and beating your competition, year-after-year, lies in the tools that increase your visibility and make you more agile. 
What does agility and visibility look like for your auto transport business? Click the infographic below to download a cheat sheet on how an integrated auto transport platform will help your business: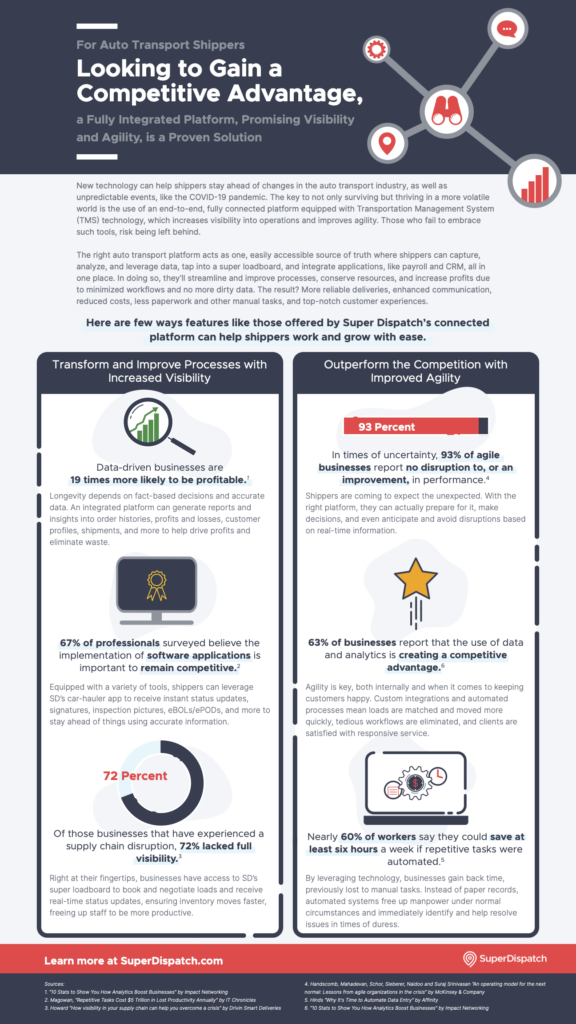 Technology, backed by a digital auto transport partner, is a quick and easy way to start gaining agility and improving visibility into load management, business operations, and even forecasting for the future. Find the right digital auto transport platform partner, and set your vehicle shipping business up for success. 
Want to learn more about how Super Dispatch improves your agility and visibility? Sign up today and start your FREE trial or visit superdispatch.com for more information. 
Published on December 16, 2020