Industry, Load board, Super Dispatch
5 Ways the Super Dispatch Platform Can Benefit Brokers
by Admin
Auto transport brokers manage a lot of moving pieces—literally! Making sure that nothing falls through the cracks and that you're able to provide exceptional service for your customers no matter what can lead to feelings of overwhelm, tempt you to expand your administrative staff, or create breakdowns in your systems. Fortunately, there is a very simple solution: finding the best TMS (transportation management system) software for brokers to quickly decrease stress and boost efficiency.
Let's take a look at the ABCs of TMS software and five ways that the Super Dispatch platform can benefit your broker business.
1. Automated Administration
It is all too easy to fall behind on your administrative tasks, focusing on working in your business rather than on your business. But a critical part of any operation is those repetitive tasks that can be tedious, boring, easy to forget—and essential for ensuring your business stays successful. Still, there's no need to set aside hours of your valuable time or to hire additional administrative support when you can automate those tasks.
In fact, the best TMS software for brokers can make it a cinch to automate receiving new orders, sending invoices, managing payments, pulling reports, and more. You can even confirm new orders and deploy status updates automatically, without even having to lift a finger.
2. Advanced Load Board
One of the most important elements to your brokerage is having reliable carriers to work with. But identifying preferred carriers can be a giant hassle and building solid relationships with them can take time.
Luckily, with a comprehensive load board like Super Dispatch's Super Load Board, we make this step simpler than it's ever been. We work with tons of carriers nationwide and make it easy for you to mark your preferred carriers, the ones you'd prefer to do business with again in the future. This can even allow you to book loads with a single click, bypassing the usual bidding process and saving you even more time. Easy peasy!
3. Consistent Communication
Stop relying on your email or voice mail inboxes to keep track of important information or to share updates with your team members, carriers, or customers. And say goodbye to playing phone tag and to piecing together a puzzle of email threads and one-off messages.
You can manage all your communication in one easy-to-use platform rather than flipping between several different channels. TMS software offers shareable GPS tracking so everyone can check any car's location with one quick click, plus instant status notifications keep you in the loop every step of the way with minimal hassle or extra back-and-forth.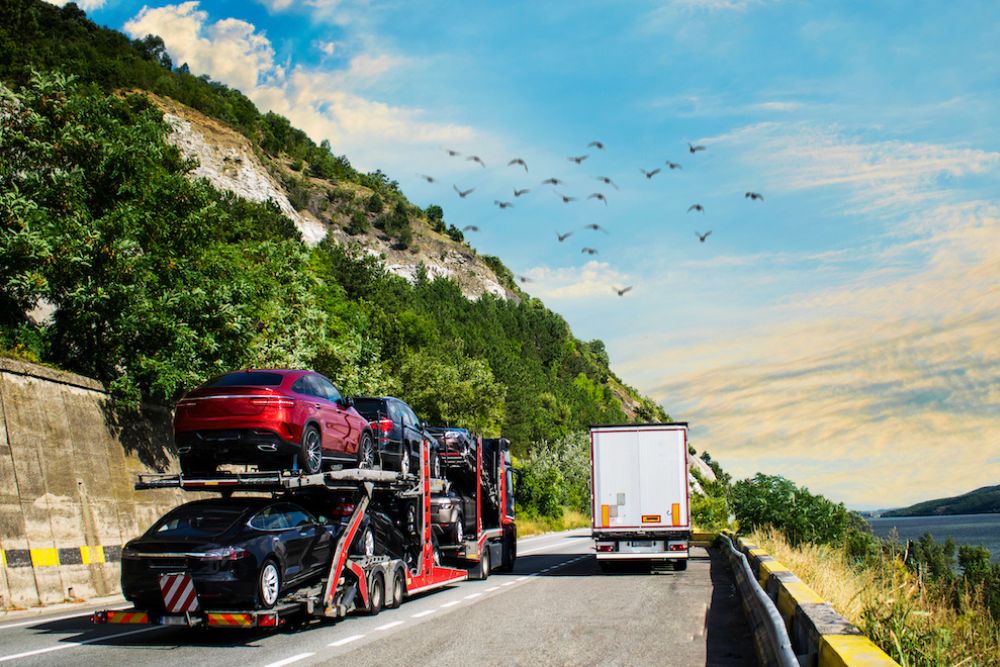 4. Digitized Documents
Looking for delivery confirmations or transport statistics? Need to find vehicle data, DQ (driver qualification) files, or FMCSA (Federal Motor Carrier Safety Administration) registration? Our load board helps you find vetted carriers who are more likely to be reliable long-term partners for your operations. You can instantly access their digital documentation–and rest easy knowing they've got all their ducks in a row, too.
Easily find what you're looking for with search functionality, handy reporting templates, and centralized storage. Locate all your most important documentation with just a few clicks, and then share with anyone—team members, customers, drivers—who might need access.
5. Easy Efficiencies
These days, the more you can do to streamline your operations the better. Investing in the right tools can give you more time to focus on serving your customers better and growing your business. And the best TMS software for brokers can help you boost your efficiency with ease!
With a platform designed specifically with the transportation industry in mind, Super Dispatch offers brokers like yours a suite of tools that can reduce administrative time, ensure compliance with federal regulations, and enhance your customers' experience.
Trust Super Dispatch
At Super Dispatch, we're committed to helping you keep your inventory moving with auto transport technology designed specifically with the car industry in mind. Our transportation management system, auto transport load board, and other digital solutions can help you minimize frustrations and maximize growth.
Ready to see how Super Dispatch can help you move cars faster, smarter, and easier? We're ready to help! Sign up for your free trial to get started today.
Published on June 30, 2022