Leaders in the auto transport industry recently met to discuss the future and what is in store for our industry. Let's discuss some key points that were mentioned.
In 2020, California set a trend with its new zero-emission truck rule. Shortly after, the California Air Resources Board announced their plan of transitioning to zero-emission trucks beginning as soon as 2024. The board's long-term plan is to make every new medium to heavy-duty truck sale be an entirely 0-emission mode of transportation by the year 2050.
After the new rule was announced, many other states signed on to the goal. 15 other states signed the memorandum in unison and announced their collective purpose of encouraging the market to produce electric trucks. By July 14th, 2020, Connecticut, Hawaii, Maryland, New Jersey, North Carolina, Pennsylvania, Vermont, Colorado, Maine, Massachusetts, New York, Oregon, Rhode Island, and Washington all agreed to follow California's example.
Incentivizing logistics and carriers to lower CO2 emissions is nothing new. This has been happening all over the country for quite a while now. However, 2020 was the first year that there was an official rule instead of merely an incentive. Of course, 2050 can seem so distant right now, particularly in the midst of the COVID-19 pandemic. But regardless, it makes all of us ponder: what's in store for the auto transport industry's future? And what will this new auto transport technology look like exactly? We have come to 3 key conclusions regarding these questions.
It Will Take Much Time
It's important to remember that plenty of engineering will need to be done before auto transport can fully go green. Even if states create environmental mandates, electrical trucks will still need to be manufactured, charging stations for those trucks will need to be created, and they will need to be installed all over the country. These things won't necessarily be easy to fund either; the COVID-19 recession will make it harder to create a sound financial plan to meet these challenging goals.
Your Non-Electric Truck Isn't Going Away Anytime Soon
For most carriers, the cost is something that can't be overlooked. A key part of the new rule is that it only applies to new trucks, and it isn't a requirement for logistics companies and carriers to replace their current truck with a 0-emission truck.
However, if/when you plan to buy a new truck in California or any other states mentioned above. You'll have more options for electric trucks during the phase-out period of diesel-fueled medium/heavy-duty trucks.
The above applies to multi-vehicle trailers and hotshot trucks too. However, you shouldn't stress about a mandated trade-in. This will only apply to you if you're an auto hauler in one of the states mentioned above and are considering purchasing a brand new truck sometime in the next few years. In that case, you'd do well to consider making your next rig electric or, at the very least, reduced emission.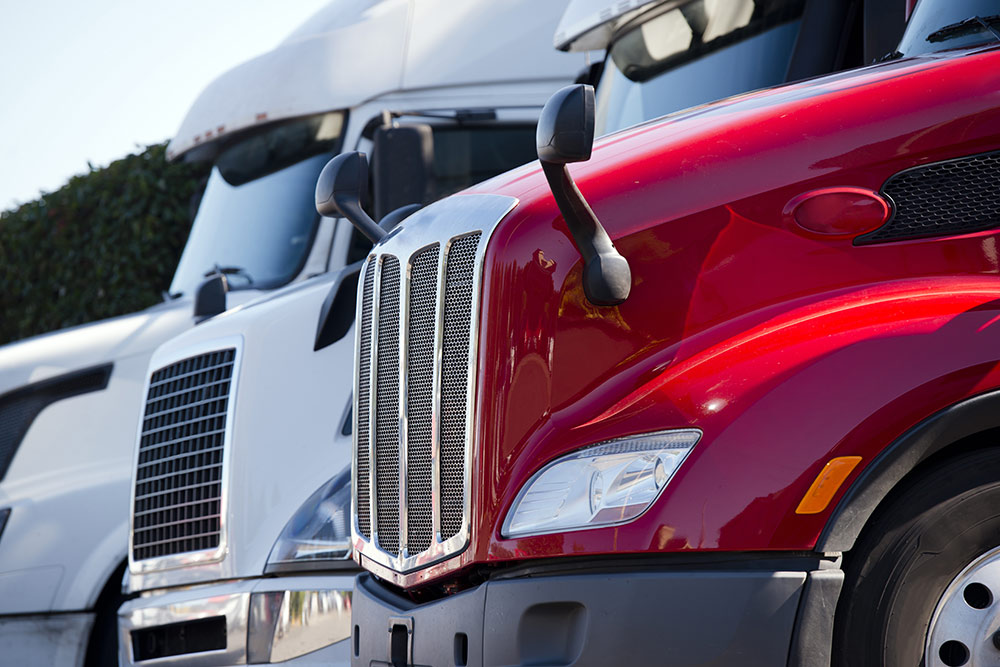 How You Can Begin Reducing Emissions Today
As a carrier, there are plenty of ways that you can begin to reduce CO2 emissions, whether you are looking to buy a new truck or are happy with the one you have.
One of the key ways to reduce emissions is to deal with the idling problem. When your truck is idle, overall emissions are increased.
According to Hansen & Adkins Auto Transport, fitting a truck with a start/stop system could benefit you in numerous ways. It would lower fuel consumption, lower emissions, and help you to maintain or even increase your current speed.
CDL Life News reported on the positive results experienced by Hansen & Adkins co-founder Steve Hansen. He explained how the trucks ended up performing faster, more efficiently, and more quietly. Because of these results, Hansen & Adkins Auto Transport was given the Toyota Environmental Leadership Award.
So there's definitely a financial incentive to go green. The short-term cost can be quite a hurdle to overcome, but the long-term benefits outweigh it. The energy-saving auto transport technology isn't just a benefit for the environment but also brings about financial benefits. It makes the cost of being an auto transport carrier or company more sustainable by cutting unnecessary expenses.
The EPA organization SmartWay is helping to lead the way by helping auto transport carriers, auto transport industry experts, and general freight companies adopt new auto transport technology. Specifically, technology that can help save fuel. SmartWay accepts any carrier or shipper who wants to get on the path of sustainability with their truck.
Discussion: Future of Auto Transport Technology
On Tuesday, March 30th, a panel of auto transport industry professionals came together discussing this topic in great detail, including Super Dispatch's own CEO, Bek Abdullayev. Here are some key takeaways that we learned. 
When will the adoption of auto transport technology increase?
Technology has historically been slow to creep into this industry. For those who did adopt the limited new tech, they took advantage of it too slowly. This was largely due to a reliance on more traditional legacy methods (paperwork and the like).
Will the pandemic have a long-term impact on the industry?
The auto transport industry definitely took a big hit in Spring last year. Still, there are now signs of recovery ahead. For the businesses that are now left, what will the industry look like in the years ahead?
Will going green be too difficult?
The green energy debate came to the forefront in the auto transport industry in 2020 when California began asking truck manufacturers to transition into making 0-emission trucks instead of diesel-fueled trucks. Will this new mandate lead to a snowball effect for going green in the auto transport industry?
It can feel very overwhelming and complicated to plan for the future amidst all of these complications and uncertainty. The year 2050 definitely seems to be light years ahead of us, especially given how quickly technology has advanced in the past century.
But despite all of this, it's certainly worth knowing how our industry will shape up and where things could end up in the near and distant future. Also, helping shippers and carriers cut down on expenses, increase sustainability, and become more profitable are ideals that should be timeless. Going green is the next arena of innovation that can help us strive closer to these ideals.
If you'd like to learn more about auto transport technology for your business, then take a look at our blog post here. 
Published on April 16, 2021