Car Hauler Industry Tips, Industry, Super Dispatch
DOT Compliance: 5 Things You Need to Be Aware Of
by Admin
Compliance is a critical component in the transportation industry, keeping drivers safe, trucks on the road, and inventory moving. Accordingly, auto transport dispatch companies of all sizes need to pay special attention to U.S. Department of Transportation (DOT) requirements to stay compliant and protect their operations. And understanding what the requirements are is the first step in ensuring you're checking all the boxes.
Here are five things auto transport dispatch companies should keep in mind about DOT compliance while planning routes, maintaining equipment, and hiring drivers.
1. Tires
Tires are where the rubber literally meets the road, and the DOT has several specific requirements you need to know when it comes to keeping your wheels moving. For starters, all motor vehicle tires should be free from audible leaks, tread or sidewall separation, and exposed ply or belt material.
When it comes to driving commercial vehicles, all tires on the front wheels of trucks and tractors must have a tread groove pattern at least 4/32 of an inch deep. (And all other tires need to have at least 2/32 of an inch tread groove pattern depth). Don't forget to pay attention to speed-restricted tires—and not to exceed those rating limits when in use.
2. Devices
Electronic logging devices (ELDs) are required for commercial drivers who must keep records of duty status (RODS), in order to ensure compliance with their hours-of-service (HOS) limitations. The ELD you use must be registered with the FMCSA (Federal Motor Carrier Safety Administration), and an information packet must be provided onboard each commercial vehicle.
The good news is that the information packet can be provided electronically—and your ELD can be used straight from a smartphone or other wireless device, so long as it meets the FMCSA's ELD technical specifications. Just make sure that portable ELDs are mounted in a fixed position (visible to the driver from a normal seated position) while operating the vehicle.
3. Hours
To ensure drivers are alert and able to operate their vehicles safely, the DOT has strict limits for both passenger- and property-carrying drivers. Those requirements are based on both off-duty and drive time, with some exceptions for adverse driving conditions (for which drivers can extend the 11-hour maximum driving limit and 14-hour driving window by up to two hours) and for short hauls.
Drivers must also ensure they take a 30-minute break for every eight cumulative hours they drive uninterrupted. That requirement—a break of at least 30 consecutive minutes—can be satisfied with a driver's sleeper berth, off-duty time, or time spent on-duty but not driving—including a roadside inspection that takes at least half an hour.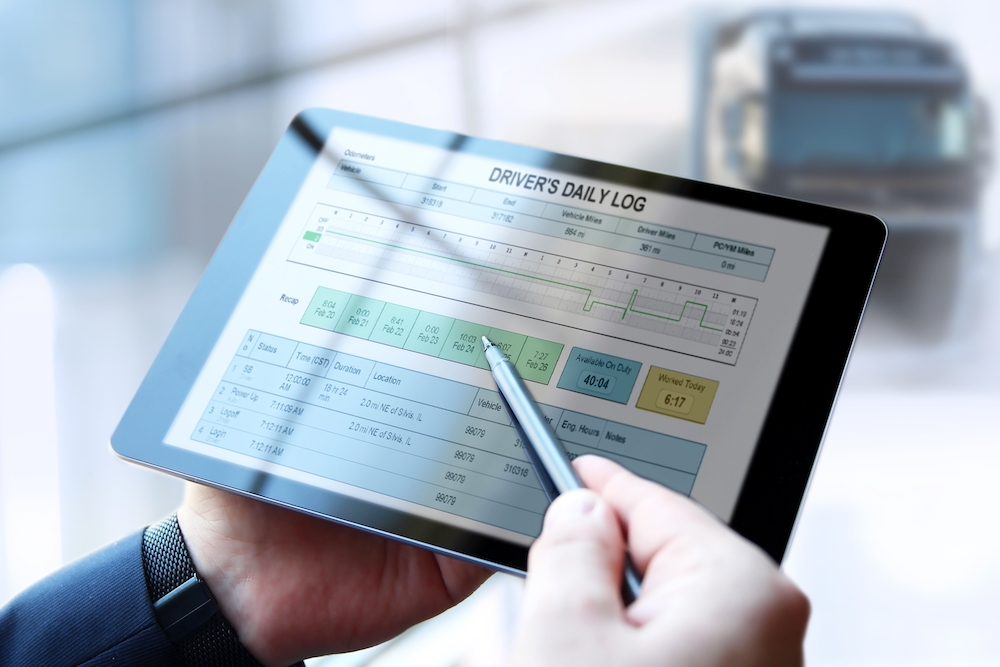 4. Personal Use
What about the time spent moving a truck off-duty for personal reasons? Transport that a commercial carrier doesn't require or benefit from is considered personal conveyance by the DOT. Driving to or from overnight lodging to a restaurant, entertainment venue, personal residence, or rest stop—or otherwise moving the vehicle or using it to transport personal property while off-duty—is considered personal conveyance.
Carriers can establish their own restrictions based on this guidance for their drivers, including limiting the distance driven for personal conveyance or banning it outright. Regardless, drivers using a commercial motor vehicle for personal conveyance must still comply with all safety requirements.
5. Risk
The FMCSA uses a CSA (compliance, safety, accountability) score to ensure motor carriers are meeting compliance requirements and incurring few violations. Using data from drivers and carriers across seven categories—unsafe driving, crash indicators, HOS compliance, vehicle maintenance, controlled substances and alcohol, hazardous materials compliance, and driver fitness—carriers are assigned a risk percentile from 0 to 100 (with 0 being no risk).
Paying attention to the CSA score can help auto transport dispatch companies reduce accidents or other incidents, keep their insurance premiums low, maintain regulatory compliance, and grow their operations with safe drivers and well-maintained vehicles.
Try SuperDispatch Today!
The team at Super Dispatch is dedicated to supporting auto transport dispatch companies like yours to keep inventory moving. Our auto transport technology is designed specifically with the car industry in mind, with a transportation management system, auto transport app, modern load board, and other digital solutions that help you cut down on frustration, maintain compliance, and maximize growth.
Are you ready to see how Super Dispatch can help you mitigate risk and stay compliant while moving cars faster, smarter, and easier? We're ready to help! Sign up for your free trial to get started today.
Published on August 24, 2022