Charles Jones has lived all over the United States – from Atlanta to Los Angeles – and has started five businesses in the course of his life. Creating jobs for great workers is a part of his life philosophy.
"I believe in creating a system for more people to thrive and succeed in…if I can't figure out how to instill success in other people, then I'm looking for another opportunity to do something."
Right now, he has found satisfaction in instilling success in the truck drivers of his new car hauling transport company, Alpha Elite Transport.
Charles Jones runs his three-person car hauling company out of a small office park 20 minutes south of Kansas City, Mo. He works with his brother and business partner Alfonso Gill. Jones also runs one of his other businesses, a credit repair company, out of the same building.
Getting into trucking
Though he has had family in trucking for years, Jones only just started dispatching a year ago. He was tipped off on the idea from his accountant who suggested he get into brokering as secondary source of income.
She was telling me what the breakdown [of the money] was. And I'm like, okay the only way this is going to work, is if there's a problem. And if there is a problem, and we can provide a solution, then I'm with it, he recounted telling her. But if it's just for the sake of making money…I can make money doing anything.
"If there is a problem, and we can provide a solution, then I'm with it. But if it's just for the sake of making money…I can make money doing anything."
Jones' accountant told him that most truckers don't trust brokers, because it's common for brokers to scrape large fees off of a load price, which leaves truckers with very little income. His accountant informed him that certain brokers would even hide the original price of the load from haulers in addition to taking the large percentage off the top. After thinking about her idea for a few days, Jones agreed that he should get into brokering. But he proposed to take a smaller fee off a load and show them the original load offer, instead of skimming more off of the top.
He began building relationships to become a broker, but in 2016 a doctor diagnosed Jones' wife with COPD and and gave her only a month to continue her job as a hairstylist in Lee's Summit. Jones had to rush to find another source of money to cover the loss of income. But he was confident the trucking industry could provide a stability for his household.
"I told her, "Give me a month, I'll figure something out"," he said.
Starting out as a dispatcher
With only a month to start, Jones instead fell into the dispatching side of the industry through the encouragement of Alfonso. After purchasing a truck outright, he joined Alfonso dispatching drivers to haul cars from Adesa and Manheim auto auctions across the United States. Though he had background knowledge of the industry and an experienced partner, Jones' first year in the trucking industry wasn't an easy road. 2017 was full of drivers leaving abruptly, trucks breaking down, mechanics overcharging and brokers filing false damage claims.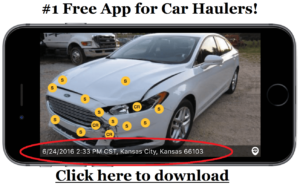 Jones was able to circumvent a lot of these setbacks due to his proactive business nature. Jones attributes a lot of the success he has had in the past year to his business background. He thinks he works smarter, not harder. For instance, within a few months of dispatching with paper to keep track of loads, payments and taxes, Jones turned to technology to simplify his business.
Using the right tools
Through googling dispatching software, Jones found Super Dispatch to manage every aspect of his business. After nearly a year using the service, Jones doesn't use anything but Super Dispatch to dispatch orders, create BOLs, send invoices and calculate his driver's paychecks.
"I don't have to use anything else [to manage my business,]" he said. "Just Super Dispatch, my bank account and my accountant for taxes at the end of the year."
Super Dispatch isn't the only thing that he uses to efficiently run his car hauling business. He has created a business rhythm. In the last year, he found committed drivers, predicted maintenance costs and created lasting relationships with brokerages. He sat down in an interview to talk a bit about how Super Dispatch and his business background has allowed him to run his business more efficiently:
Super Dispatch and Alpha Elite Transport Video
After this first year, Jones is already interviewing for his fourth driver position, and is only looking to grow Alpha Elite more. In even better news, his wife's first COPD diagnosis was a false positive.
How did you get into trucking? Share your story in the comments!
Published on April 9, 2018