According to Owner Operators – how load boards make our lives easier and harder
This is the first part in a series about how the paid and free load board system affects carriers, brokers and dealers.
Load boards are what make the world go round for most owner operator car haulers, especially new ones. As the first truly popular online load board, Central Dispatch made the auto transport business accessible for carriers, brokers and even some dealers. After its inception in 1999, anyone could create a car hauling business or brokerage and become profitable by finding or brokering loads through Central. Many load boards came after Central, but none have beaten it's influence.
While load boards have improved and connected the industry, some industry professionals would say that the load board system has simultaneously aided in lower pay and worse conditions for carriers.
We talked to some owner operators for their opinions on the Good, the Bad and the Wants of each load board. For the purpose of this series, most load boards fall into two categories: broker owned/ free load boards, and Central Dispatch.

Central Dispatch
OVERVIEW
Overall, Central Dispatch seems to be a necessary evil for owner operators; a hurdle to overcome before creating lasting broker or dealer relationships to fill their trailer. All of the available loads and the route planning is there, but paying over $1,000 a year for the service is hard, especially when many things could be changed that would improve the experience dramatically.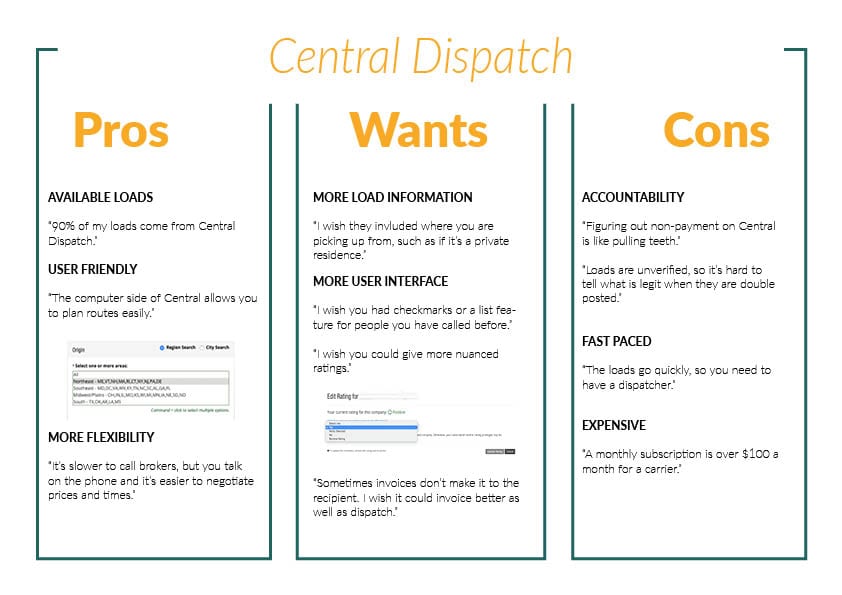 Broker and free load boards:
OVERVIEW
Broker owned load boards are generally free, and seem to be a dime a dozen. We've grouped them all here, because most carriers see them all as secondary to Central Dispatch. The major 5 at the time of this piece are: CarsArrive, MetroGistics, Ship.cars, Ready Logistics (a.k.a. 1Dispatch) and United Road.
Overall, broker-owned and free load boards are easy because they are free, but have a host of problems, from strict operating requirements to speed of payment, load availability and required load processing apps.

Operating Requirements
CarsArrive requires 3 months of an active authority and minimum $1 million in liability insurance.

Load availability
CarsArrive, Ship.cars and MetroGistics have far fewer loads than Central Dispatch, and to many Owner Operators, that means they will rarely use them.
United Road consistently boasts the most loads of any free load board, but many are double posted to Central Dispatch.

App Functionality
Check out our Broker Owned Apps blog post to learn more about this
Ready Logistics (also known as 1Dispatch) has the best processing app of a broker. More than one Super Dispatch customer has remarked that they likely modeled theirs after our own.
United Road's app is notoriously bad – give yourself a lot of extra time to process UR loads.

Payment and Speed of Payment
United Road appears to have an automatic payment system, instead of manual billing. Carriers have reported being paid in the middle of the night, very quickly after delivery. Unfortunately, you must use their United Road App (Veritas) to get paid in this fashion.
MetroGistics Ready Logistics appears to have the fastest payment of any broker, by far.
CarsArrive appears to be the quickest of the broker-owned free load boards.

Pros of broker load boards:
On places like CarsArrive, night bookings are possible, so carriers don't have to call anyone.
Getting paid is much quicker when you book directly with the broker.
On a broker load board, you always know it's a legitimate load. Carriers don't have to guess if it's double posted or not actually brokered to that broker.

Wants for broker load boards:
Boards like United Road need better descriptions. Currently, it's not clear when a car is inoperable or not.
Overall, broker load boards need to pay better.
You should be able to use third party apps to process loads (like Super Dispatch.)
Do you have anything to add about Central Dispatch or other load boards? Is anything in this piece inaccurate, in your experience? Who is the best load board, and why?

Let us know in the comments.
Published on March 1, 2019