Industry, Shipper, Super Dispatch
How to Get a Competitive Advantage as an Auto Shipper
by admin
As an auto shipper, there is plenty about your business that is tough to control. But instead of frantically trying to stay on top of your inventory, transport schedules, compliance requirements, and more, there is one change you can make to revolutionize your day-to-day operations, freeing up your time and energy to spend it where it really counts.
Using auto transport software like a transportation management system (or TMS) to digitize your tasks and streamline your processes can help you get visibility into what is going on in real time, help you respond to changes or complications more quickly, and improve your bottom line—and to get the competitive advantage in the industry.
Gain Visibility into Your Operations
Whether you are an auto auction, broker, or car dealership, one of the biggest challenges that auto shippers face is being able to wrangle all those moving parts. You're trying to ensure your inventory is getting where it needs to go, but you don't always have insight into the status of your transports, or into potential problems as they arise. It can feel like you are caught in a perpetual cycle of running down information—not to mention the need to scramble in order to respond accordingly.
With a Shipper TMS at your fingertips, you can get an easy look into all your shipments so you can stop chasing down carriers and digging for the most important details of your transports. Get instant updates, signature confirmations, inspection photos, eBOLs and ePODs (electronic bills of lading and proofs of delivery), and more to help you avoid disruptions and keep your inventory moving.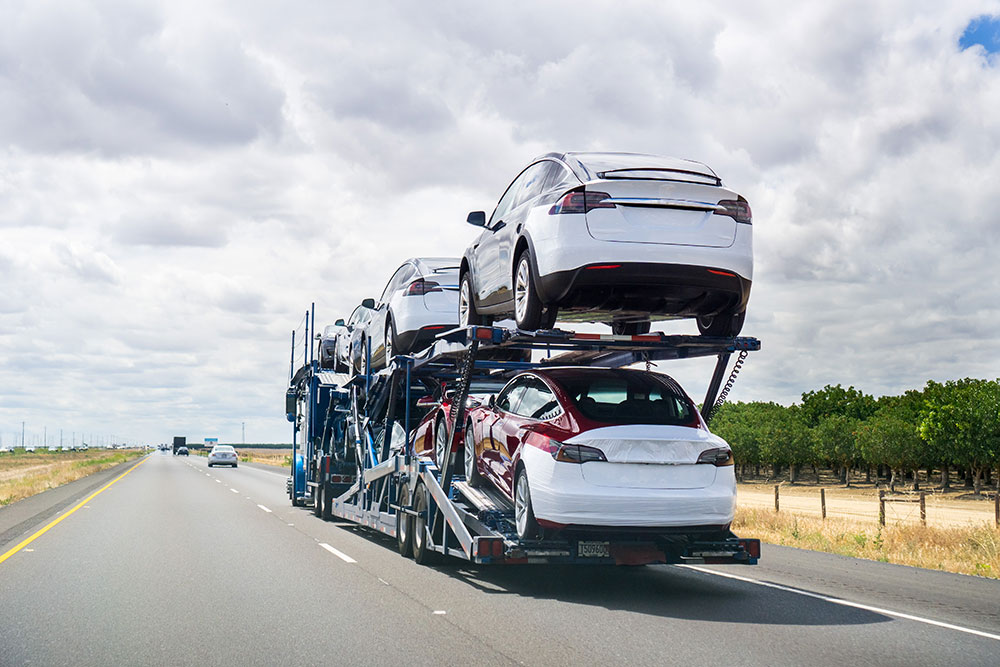 Enhance Your Business's Agility
Getting a look at the logistics of your transports is just the beginning, of course. In an industry fueled by frequent changes and often riddled with uncertainty, you need to be able to respond quickly. Amid the many fragmented processes of getting vehicles from point A to point B, using an auto transport platform can help you manage it all in just one place.
A Shipper TMS can help you streamline your operation by allowing you to manage transports both reactively and proactively. You can make adjustments as needed when a shift happens, and you can also automate your regular workflows so you can focus your energy elsewhere.
Improve Your Bottom Line
One of the biggest ways using a Shipper TMS can impact your business is through savings. All that time that you are currently spending tracking down updates, repeating manual tasks, and tying up various loose ends? Get that time back and spend it where it really counts.
When there's no need for never-ending games of phone tag and frantic searching for the details of your transports, you can instead take time to further streamline your operation, improve the experience for your customers, and increase your volume.
That time savings, as you might expect, translates to other savings too—and can improve your bottom line. Cut down on your administrative costs while simultaneously boosting revenue for a true win–win for your business.
Level Up Your Communication
All that added insight and information you're gaining into your shipments certainly doesn't just benefit your own business. Being able to quickly share updates with your customers, offering them a best-in-class experience and building relationships that last can make a world of difference in the future of your operation.
Using a Shipper TMS can also improve relationships with your carriers, helping you find reliable partners to work with and streamlining how you manage transports with them. Making it easy for carriers to work with you makes it easier to get the edge on your competition.
Outsmart the Competition
That old adage to "work smarter, not harder" has never been truer than in the age of technology we're enjoying today. With rapid changes in how we do business, there is no reason to keep working harder to achieve what a tech solution can help you do almost instantaneously.
In fact, digitizing your transportation management can give you a leg up on the competition before you've even begun! Don't waste even one more of your day trying to manage manual workflows or trying to compile all the information you need to be a successful shipper across a hodgepodge of systems. Make it easy on yourself—and your team—and use an all-in-one platform instead.
At Super Dispatch, we are eager to help auto shippers and carriers move smarter, easier, and more efficiently. Our digital solutions are designed especially for the auto transport industry and operations like yours.
If you're ready to see just how Super Dispatch can help you get the competitive edge as an auto shipper and offer outstanding service for your customers and team, we can't wait to help. Sign up for a free demo today!
Published on August 18, 2021