OOIDA is Still Fighting for ELD Delay
Back in August 2016 we wrote a blog post that was widely circulated among car haulers: OOIDA vs. FMCSA – Is This The Biggest Legal Battle In Trucking History?
Since then Owner Operator Independent Drivers Association (OOIDA) has been defeated at every turn in attempt to delay the FMCSA's ELD mandate which is set for December 18,2017. It has been?a long and hard fought battle where FMCSA is still having an upper hand, but OOIDA is not giving up yet.
OOIDA with the coalition of 30 other groups are pushing hard to pass the bill proposed by Rep. Brian Babin (R-TX) H.R. 3282, the ELD Extension Act of 2017, that would delay the ELD mandate deadline till December 2019. Just to remind you similar attempt failed in September when congress voted against it by 246-143 vote.
Also, OOIDA actively trying to get attention of the President Trump with active tweets with the hashtags #DelayELD and #eldorme
Reality for Car Haulers
Whether you like it or not, as of today ELD mandate is going to happen on December 18th, 2017. This is going to effect not just the drivers, but the entire company including dispatchers, owners, billing and operations. Car hauling is very labor intensive mode of transport compared to others, especially when there are multiple pickup and delivery destinations for each trip.
"Based on our survey 71% of car haulers are still using paper logbooks. Are you part of that 71%?
Based on our survey 71% of car haulers are still using paper logbooks. Are you part of that 71%? If your answer is yes, then you need to get serious about finding a solution for yourself. Unless you believe in a miracle that FMCSA will delay the mandate (at this point we can consider it as BIG MIRACLE), you need to quickly research about solutions, choose one, start using it and get comfortable before the deadline. There is no guarantee that your choice will be perfect and easy solution for you, so you need enough time for the entire company to get used to it.
Many trucking experts are speculating that ELD rule would lead to rate hikes. You can google it and find many articles about it. Let's say there will be a rate hike because of the ELD mandate and some carriers might stay off road in order to get compliant. Don't you want to be fully operating at that time? If you start getting your solution now and be fully operational on December 18th, there is a chance you can take advantage of that period when things are shaking up.
Action plan:
There's a lot of activity happening around the FMCSA's ELD mandate right now. Because of this there's a lot of conflicting information in the trucking world floating around which is causing a lot of confusion. Drivers and transportation providers are watching YouTube videos, reading blogs, and paying close attention to the news. The problem is that the source of this news, in many cases, is becoming unreliable. At Super Dispatch we're paying close attention too. While we're paying attention to the articles, YouTube videos, and blogs, we're paying most attention to Congress, the Senate, and the FMCSA. Based on what we're seeing, it's time to develop a plan for being compliant by December 18th.
At Super Dispatch our priority is to help car haulers by providing resources, tools and knowledge to grow their business. Here we have put a list of things you should do while getting ready for the ELD mandate.
Go through this

"What Do I Need to Do?"

section of the FMCSA's website, which is the best source to learn about ELDs. You should bookmark that page for future references as it gets updated by the FMCSA.
Read Super Dispatch's "Ultimate Guide to ELDs" to learn the exact ins and outs of what you need and what you don't need.
Talk to other car haulers and see their ELD setup, you can just go to the nearest truck stops/auctions/terminals. Before getting yourself into long yearly contracts you really have to make sure it's the best choice for you.
Once you find the solution, check if the ELD device is

registered with FMCSA

. If you do not see the device and provider in the list, then you are not compliant.
We do not endorse any specific ELD solution for car haulers, but we found this website started by Indianapolis-based Tradewinds Logistics to have realistic reviews from actual users that can help you. You should definitely check it out and use the Filter and Add to Compare functionalities.
What's coming from Super Dispatch
Currently, Super Dispatch is developing ELD solution specific for car haulers. We made the decision to begin developing an ELD solution based on the concern from car haulers that this rule was going to force many Owner Operators out of the space due to high implementation costs and more rigidity to their hours of operation, which is putting extreme pressure on their bottom line.
While we're not going to force this solution onto any of our existing car haulers, we feel like we can provide the users of Super Dispatch a very valuable solution by bringing everything into one product, for a very affordable price. Super Dispatch customers would take advantage of savings from no upfront costs of hardware, no shipping, no contracts, no hidden fees. We believe that our technology should be very intuitive and easy to use with minimum data entry from the user.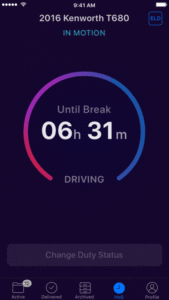 We are working hard to release our solution before the mandate deadline, but there is no guarantee. We have many car haulers testing our solution on their mobile devices and if you wish to get your hands on it, please sign up HERE.
If you're interested in Super Dispatch ELD solution sign up HERE.
If you have a comment about the ELD mandate, or a suggestion, or would like to be featured on our blog page, please tell me in comments. And please share this post with other car haulers. Thanks for your time, and keep on trucking.
– Super Vin
#1 Car Hauler BOL App ? Import orders directly from Load Boards. Stop buying paper forms. Try It For Free. Download for Android HERE and for Apple HERE.
Ready To Test Drive Super Dispatch For Your Company? Book A Demo HERE Or Sign Up HERE.
Published on October 18, 2017