I'm sure you've heard the saying "brokers make us broke". If you've been in the transportation industry for any amount of time, you've probably heard car haulers complaining about how horrible brokers are and how detrimental they are to the auto transport industry. Heck you might be one of those guys.
And I get it, some brokers will offer you crap pay. That's no secret. But the truth behind all this? Is something most of you don't want to hear: brokers aren't making you broke. You're making yourself broke.
Now before you start running to the comment section to light a fire beneath my backside, let me preface with this.
I was a car hauler long before I ever knew what an auto transport broker was. I grew up in a trucking family with a dad who worked for United Van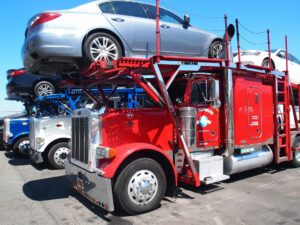 Lines before I was born and hauled cars for Cadillac. So yes, I know a lot more about trucking than some might think.
At my core, I am a truck driver and will always be. Hence why I still hold a valid CDL and guard that privilege with my life.
I know what it's like being on the road missing out on family and friends. Not only did I spend my entire 20's doing that, but I never got to say goodbye to my dad before he passed away because I couldn't get home in time.
So before you bash me, I ask that you just hear me out.
Brokers are known for giving crap pay but what most of you won't see is that there are brokers out there paying good money. But with anything good? Well it never lasts. So the good loads are gone before you blink an eye.
When I was hauling cars, I literally had to refresh the screen every second. Many days I wondered if my pointer finger was going to fall off. That's how I got the good loads.
To sum it up in one word: Hustle.
I had to hustle my butt off not only to find loads but to move them too.
If drivers are up at 7? You need to be up at 6. Because as I said, nothing good lasts and if you're not the first?
You get left with scraps.
So back to the original point I made at the beginning of this post: brokers don't make you broke. You?re making yourself broke.
I'm personally on a mission to change the way brokers are approaching the pricing thing but that has been and will continue to be a long fight. And let's face it. That's not helping you now.

You want change now and I get it.
But if you want to win at this game? If you want to get paid the money I know. You know. We all know you're worth?
Then you need to get off your butt and do the work. Remember that word hustle?
Car Hauler you've got to hustle in every aspect of your business.
Do what the brokers do!
Bring in your own clients!
Stop making excuses and get it done!
If you don't know how to? Hire someone that does.
The point is, if you just put in 10 mins each day, or even 10 minutes every 3 days? You will not only win but win big.
As a car hauler, you are in the best position possible. You are the one doing the hauling. You can guarantee things most brokers can't. Things that customers care about like prices and pickup dates.
In fact, most customers would rather deal with a car hauler directly before a broker but guess what? Car haulers aren't getting out there.
So what does that mean for you? How can you get out there and get your own clients?
It's simple: Take note of what brokers are doing to get noticed and do it better.
Brokers are online. You get online.
Brokers are networking. You network.
Brokers are putting themselves out there. You need to put yourself out there.
Complaining about how brokers are making you broke won't change anything. But being smart about how your run your business?

Now that's real change.
I mention this time and time again the importance of blogging for your auto transport business. Like in this video.
It's how you can target a specific market.
A specific client.
A specific type of transport.
Yet none of car haulers?are doing it.

It's as simple as this:
01 | Grab a domain name. So if your company is ABC Transport, then buy the domain abctransport.com
02 | Install WordPress. WordPress is a free platform that allows you to customize every aspect of your website. Some love squarespace but I find WordPress gives you the most flexibility hands down.
03 | Choose a template (free or paid) or have one custom designed for your needs. You want to make your site look good. In this case, less is always more. So no fancy graphics. Just something to say ?I'm legit?.
04 | Start blogging. Write about your route. So if you're running coast to coast? Do some research and write for your coast to coast transport. Write about trips you've made. Write about things that people should and shouldn't do when shipping their car. More importantly, write about the things people are searching for. Researching and planning is key here. You want to make sure you're writing relevant topics but also staying true to who you are while speaking in plain English. Plain English as in write for people not for search engines.
05 | Stay consistent. Blogging isn't some get rich quick scheme that you can do for 2 weeks and see results. You have got to put in some serious elbow grease. You have to do the work. But if you do the work for 3-6 months plus? You will reap the fruits of your labor.
Blogging is really that simple.
People make it a lot harder than it needs to be while others don't even try.
The hardest part is doing the preliminary research and staying consistent. Blogging is how I was able to bring in my own clients. Clients who were excited to work with me.
And best part? It literally took a few minutes a day. Talk about 100% ROI (return on investment).
And that's just blogging.
There's so many other ways you can leverage your car hauler position to get your own clients. Through platforms like social media, local events and good old fashioned word of mouth to name a few.
When I work with car haulers, the number one thing I hear is I can't write or I have no time.
Think you have no time? You have a 10 hour break. [ Use it wisely ].
Think you can't write? Then record. [ Audio or Video pick your poison ].
There are no excuses my friend.
The thing is, I am on your side but I can only do so much.
As I said, you're in a unique position as a car hauler. The ball is in your court but if you don't play it right? If you don't put in the work to get to the basket?
Then you will forever say ?brokers make us broke? while the smart guys are putting in the work and seeing serious gains.
You have a choice. What you do with it? Is up to you.
PLEASE LEAVE YOUR COMMENTS/THOUGHTS BELOW
Ashley Tucker helps highly driven entrepreneurs build, grow and nurture Rockstar businesses in the relocation industry. Helping you ship more cars or successfully sell to the awesome people who do. Visit her over at Relogeek.com
#1 App for Car Haulers – Try It For Free. Download for Android HERE and for?Apple HERE.
Ready To Test Drive Super Dispatch For Your Company? Book A Demo HERE?Or Sign Up HERE.
Published on February 20, 2017