A lot of power in the hands of a few
Between 17,000 franchised American car dealerships, around 35,000 car carriers and an endless supply of brokers, the auto hauling industry is robust and fragmented.
Though industry fragmentation is a commonly cited problem, industry concentration is just as pervasive. In fact, a lot of the industry is owned by only a few companies.
KAR Auction Services and Cox Automotive are two such companies with a large share of the market.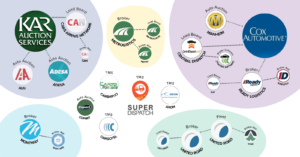 The incredibly successful Manheim Auto Auctions and Central Dispatch are both subsidiaries of COX Automotive. Manheim has over 80 locations across the United States and Central Dispatch is still the industry's loadboard leader.
Another large portion of the industry is owned by KAR auction services. Two of KAR's subsidiaries are huge auto auctions IAA
(Insurance Auto Auctions Corp.) and Adesa. KAR also owns a competitive loadboard, CarsArrive Network.
Metrogistics, United Road and to some extent Montway are competing for more industry share akin to KAR and COX. Though the insurance auctions are bought out, these other companies have moved toward expanding their brokerages, creating competing load boards and designing transportation management systems after our own at Super Dispatch. These moves are in order to capture the market. The market being car carriers.
These companies and subsidiaries could compete or work together in the marketplace to make their services more desirable for carriers. But instead, they double down on creating obstacles and penalties if a carrier decides to use more than one auction, load board, broker or TMS to run their business.
This non-cooperation is the status quo of the industry. It's meant to disincentivize carriers from using other auctions, load boards, brokers or softwares altogether. In practice, it forces carriers to split more of their time between warring companies just to keep their trucks filled and get paid on time.
This non-cooperation is the status quo of the industry…it forces carriers to split more of their time between warring companies just to keep their trucks filled and get paid on time.
We especially see this in our own corner of the industry. Some brokers have flat-out refused to accept any Bill of Lading or invoice processed through Super Dispatch. Whatever the reason, ultimately this routes more business through their own Broker Apps.

Zero sum game and monopolies
The way Super Dispatch sees it, these brokerages, auto auctions and load boards are setting themselves up for a zero sum game: whatever company catches the most carriers the quickest will monopolize the industry.
What happens when single companies monopolize the load processing software, the brokers, the auto auctions and the load boards? Carriers lose their bargaining power.
Why is Super Dispatch different?
Super Dispatch is connecting the auto industry, not further fragmenting and concentrating it. And this is because we are an independent TMS created by carriers, for carriers.
By placing carriers at the center of our company platform, we are changing the industry standard.
We constantly update our software to make it compatible with any broker, load board or auto auction.
We listen to our carriers, always accept feedback, and often implement changes because of their suggestions.
All of the products we plan to make in the future will continue to be independent and as universally compatible as possible.
We want our customers to be the best-equipped they can be in this complex market.

But how can the rest of the industry change?
The changes we are spearheading are what will cause the market to change. Large market forces are hard to overcome. But newer companies across the industry, ours included, have begun to balance power structures in the market. as new technologies help carriers to make more educated business decisions, we think that carriers will be able to better advocate for themselves.
In the near future, there will be a single platform and API that every company (big or small) can use to find trusted brokers, carriers and shippers.
Communication between drivers, dispatchers, brokers and shippers will improve.
Companies will throw away prohibitive business practices and engage in healthy competition, instead of creating monopolies.
In our version of the future, transparency improves everything. Shippers won't worry about the safety of the cars being shipped, because of real-time updates on their product shipments. Carriers will be adequately paid on time for all load offers, because of automatic payment systems. Brokers won't play phone tag or make excuses for late cargo, because they will know and communicate well with trusted, safe carriers for every load.
In our version of the future, the industry operates quicker and always in good faith.
As aforementioned, some industry players are already creating this change. More carriers have invested in independent companies, and educated themselves on proper industry business practices.
In May, Super Dispatch found what might have been a sign of industry change: there were over 50,000 cars on Central Dispatch. Ziggy Keller, a founder of IATA and moderator of AutoTransportEverything.com thought that this was a sign that haulers weren't taking freight with too low of rates.
"Our industry is fragmented and splintered, until we educate each other, until we pay appropriately," Ziggy said. "When I ask someone to move a car for me, I would never consider 11 cents a mile. So until you educate carriers to the cost per mile, which we are starting to do, when they can understand their cost per mile, then they can fairly market their own services."
In addition, some brokers are more transparent about their rates, and create lasting business relationships with their favorite carriers. Rates have begun to meet adequate standards for shipping costs. And as these trends continue, the market will continue to improve for everyone. It is possible to fight against monopolies, and carriers will be able to do so with new tools and industry standards.
Published on August 15, 2018